Close
My account
GET 20% OFF
By subscribing to our newsletter
Bringing joy in people's lives
for over 180 years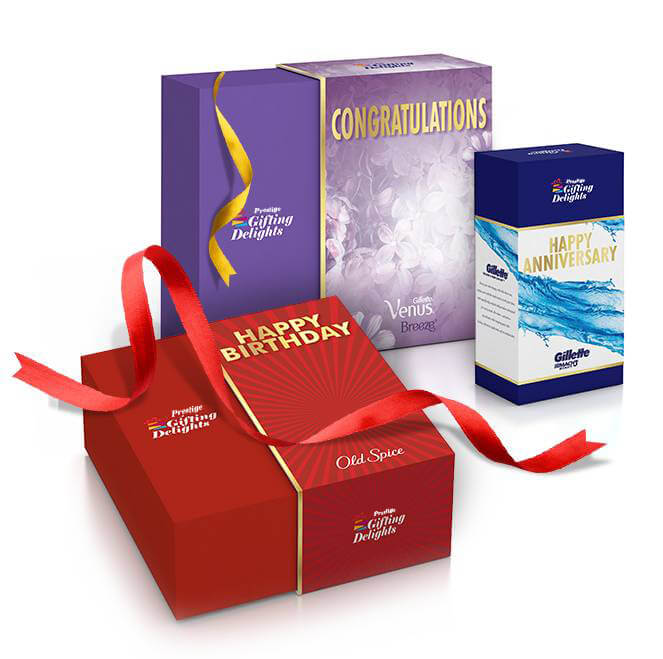 Gift better every day and delight!
Procter & Gamble (P&G) was founded over 180 years ago with the purpose of improving the lives of 5 billion consumers through our leading brands. Today we are the world's largest consumer goods company and home to trusted brands such as Gillette, Pampers, Head & Shoulders, Old Spice, Ambi Pur, Pantene, Tide and Ariel in India. Our brands make life a little bit easier in small but meaningful ways. We've spanned centuries thanks to three simple ideas – leadership, innovation and citizenship – that have helped us grow into a global company which is governed responsibly and ethically, is open and transparent, and supports good causes and protects the environment.
P&G now brings to you, your favourite P&G brands online. You will find the perfect Gift Packs, Hampers and Assortments to suit your personal & corporate gifting needs. With easy online and offline shopping, gifting via Prestige Gifting delights is a popular option both for individuals and corporates.
This website is owned, operated and managed by Prestige Pursuits Pvt. Ltd., – National Channel Partner for P&G in India, responsible for selling and fulfilling all orders for the Prestige Gifting delights website. Prestige Pursuits Pvt. Ltd. is a leading independent, full service B2B and institutional sales and distribution company having extensive experience in consumers and corporate markets. It represents a range of prominent Indian and international brands, promoting and selling their products across B2B, institutional, HoReCa and e-commerce channels. The company has been independently owned and managed since 2011-2012 It is committed to providing quality services, products and solutions that earn the trust of its customers, consumers and partners to build lifetime relationships. Prestige Pursuits Pvt. Ltd. has pan-India presence and distribution as well as storage and logistics facilities across major supply hubs in India enabling faster reach and best-in-class service.
If you wish to contact us about this website or anything to do with the Prestige Gifting delights web site, you can do so by:
Toll Free Number:
Monday – Friday 10 am-6 pm
(excluding public holidays)
Business Enquiries Service